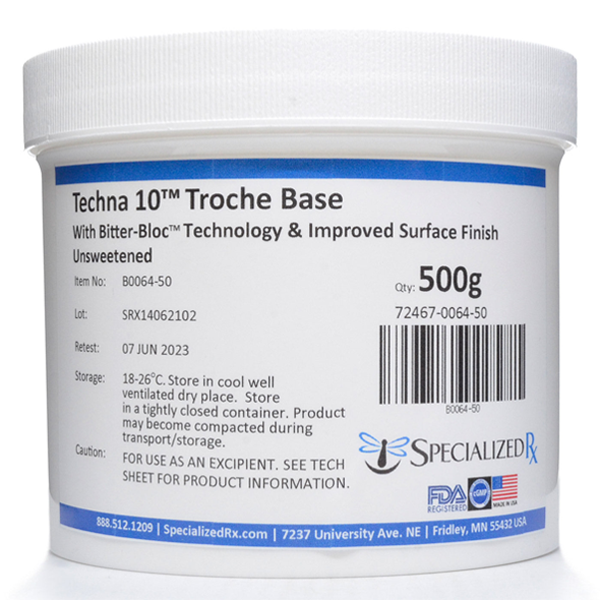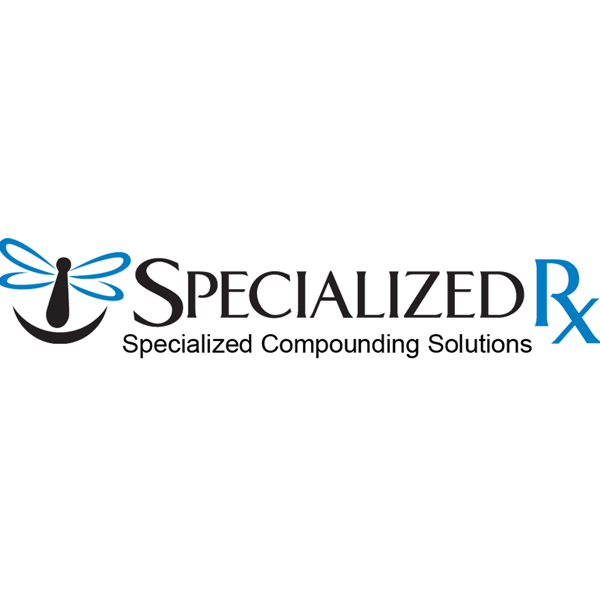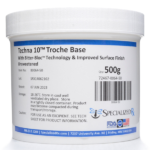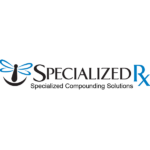 Techna 10™ (Unsweetened) Troche Base w/Bitter-Bloc Technology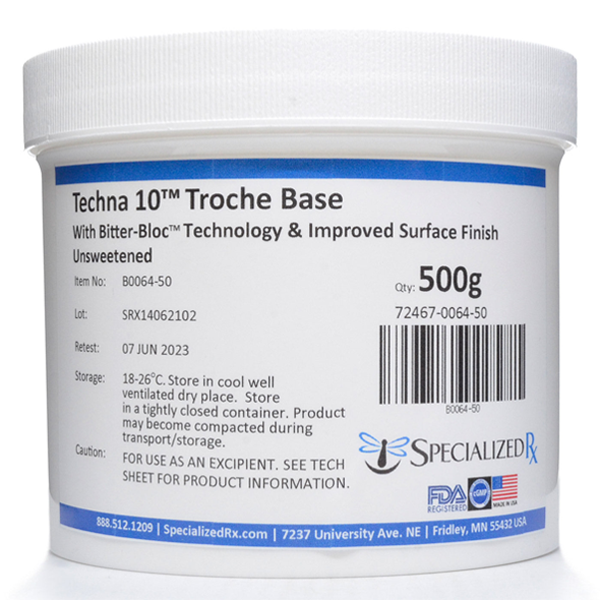 Techna 10™ (Unsweetened) Troche Base w/Bitter-Bloc Technology
Please
Login
to view pricing and place an order.
Please
Login
to view pricing and place an order.
***CONTACT YOUR SALES REP FOR PRICING AND AVAILABILITY***
***SPECIALIZED RX PRODUCTS ARE DROP-SHIPPED FROM CIRCLE PINES, MN***
Description
Techna 10 is one of our proprietary troche bases that offers an improved mouthfeel, relatively quick dissolution rate, a smooth finished product surface finish with reduced Polyethylene Glycol (PEG) yet able to tolerate a relatively high API load.    Techna 10 is sugar-free, includes natural suspending agents as well as other natural flavor enhancers.  Techna 10 SF contains our natural bitterness blocking technology that is excellent in blocking bitter and metallic off-notes from numerous compounds such as progesterone at the oral receptor sites.  Techna 10 Troche Base is ready for the addition of actives, flavors, and colors.  Call for bulk pricing.
Improved surface finish
Reduced PEG content
Natural thickeners
Smooth mouthfeel
Anhydrous (extended beyond use dating)
Great taste
Gluten-free
Non-GMO/Vegan compliant
Excellent friability properties
Water miscible flavors ready
Ideal melting range of 42-46ºC
Classified GRAS status ingredients
**During summer months, it is recommended to ship troche bases expedited due to the melting temperature of the product.
What is Bitter-Bloc™ Technology?
Other products on the market simply mask flavor defects, Bitter-Bloc™ actually blocks flavor defects from reaching taste receptors on the tongue to prevent the bitter molecules from binding with the receptor sites. In effect, it gives the product a cleaner taste. This allows formulators to use ingredients that meet consumer demand without compromising on taste. Works to eliminate bitter, salty, metallic, astringent, and general off-notes in a variety of oral formulations.
HIGHLIGHTS:
GRAS CERTIFIED ORGANIC
NON-GMO
WATER AND OIL MISCIBLE
HEAT STABLE (TO OVER 160°C)
LOW pH STABLE
NO ALLERGY DECLARATIONS
Is Bitter-Bloc™ a sweetness modulator? Bitter-Bloc™ is not a sweetness modulator as it does not affect sweetness. However, in some cases tasters will notice an enhanced flavor profile. Since bitterness is a strong flavor, it often will overpower the other flavors present. Bitter-Bloc™ will bring down the bitterness perception to the point that other flavors are now able to be perceived.
Additional Information:
Product Tech Sheet: coming soon
MSDS: coming soon
Call for bulk pricing.