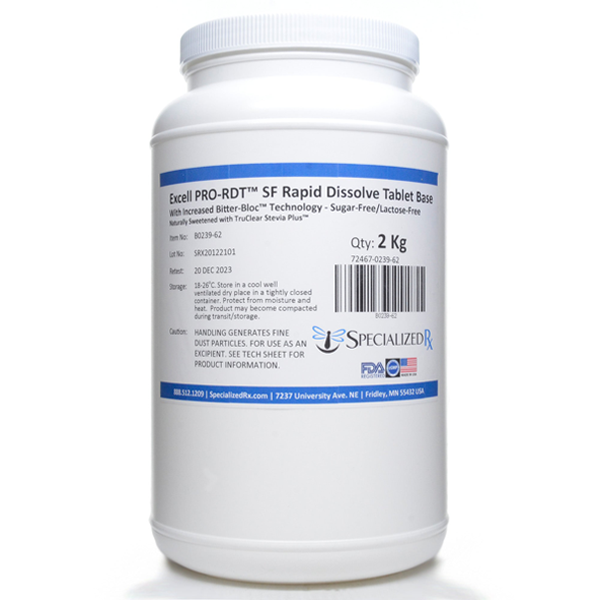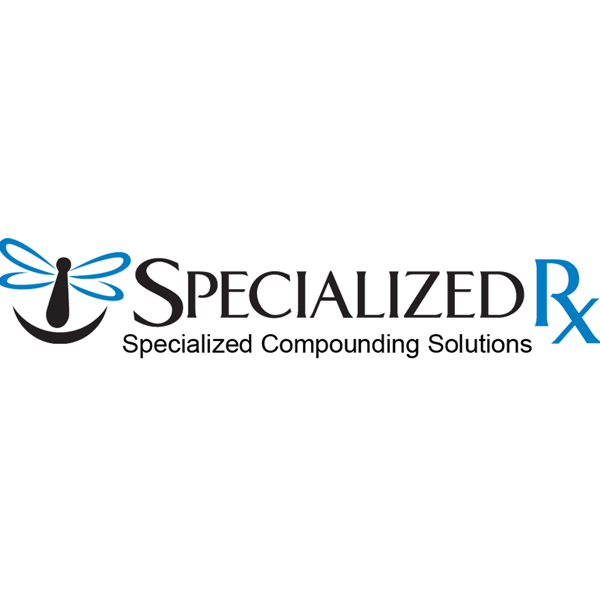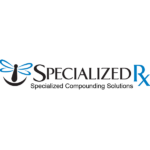 Excell PRO-RDT SF™ Rapid Dissolve Tablet Base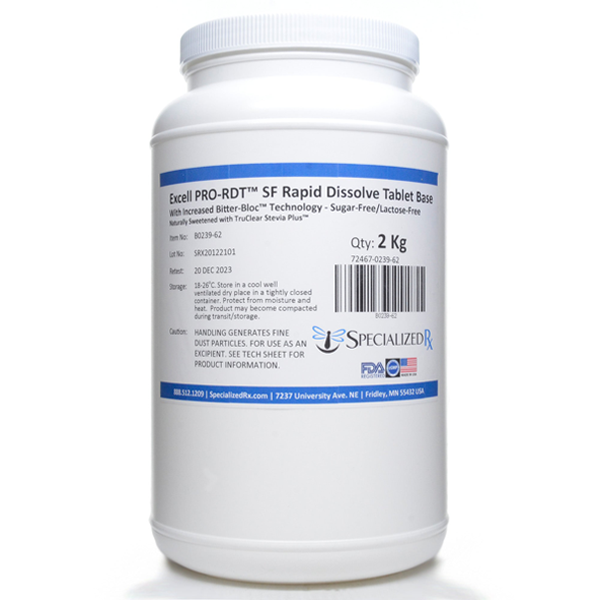 Excell PRO-RDT SF™ Rapid Dissolve Tablet Base
Please
Login
to view pricing and place an order.
Please
Login
to view pricing and place an order.
***CONTACT YOUR SALES REP FOR PRICING AND AVAILABILITY***
***SPECIALIZED RX PRODUCTS ARE DROP-SHIPPED FROM CIRCLE PINES, MN***
Description
Product Tech Sheet
Description
Excell PRO-RDT™ is a sugar/lactose-free, rapidly disintegrating tablet base designed to be easy to work with, improved flow characteristics, minimal adherence to mold contact surfaces, very low hygroscopic properties, increased level of Bitter-Bloc™ Technology, and highly compatible with a wide range of APIs.  This free-flowing powder tablet base helps to improve efficiency, dose variability, excellent finished tablet friability properties, will rapidly wick and disintegrate in the presence of moisture (average dissolution for a 0.6g RDT is 30 seconds).  Excell Pro-RDT™ is naturally sweetened with our TruClear Stevia Plus™ and imparts high bitterness blocking capability with increased levels of our natural Bitter-Bloc™ Technology, improving palatability for challenging prescriptions. Requires heat for tablet forming.  Contact us for recommended method of preparation.
Benefits:
SUGAR-FREE
LACTOSE-FREE
NATURALLY SWEETENED
RAPIDLY WICKS AND DISINTEGRATES
MINIMAL ADHESION TO MOLD CONTACT SURFACES
IDEALLY FORMULATED FOR HYGROSCOPIC ACTIVES
EXCELLENT FRIABILITY PROPERTIES IN TABLET FORM
FAST HEAT CYCLE TIME (110˚C / 17 MIN OR 80˚C / 30 MIN)
INCREASED BITTER-BLOCTM TECHNOLOGY
PRESERVATIVE, DYE, AND ARTIFICIAL SWEETENER-FREE
EXTENDED BEYOND-USE DATING (BUD) PER USP <795>
GRAS STATUS INGREDIENTS
Inquire for 5Kg+ pricing.
**During summer months, it is recommended to ship RDT bases expedited due to the melting temperature of the product.
Keywords: Fast Disintegrating Tablets (FDT), Oral Disintegrating Tablets (ODT), Orodispersible Tablets, Quick Disintegrating Tablets (QDT), Superdisintegrants